Activities
Fish Marketing:

The Federation arranges prawn marketing of member fishing boats. This activity is carried out in Mangalore and Hungaracutta Fishing Harbours . The members prawn catches is purchased by the Federation and sold to the Buyers who send it for processors for export to foreign country. The Federation take the responsibility of collecting money from the buyers and giving it to the members. The Federation gets 6% profit form the boat owners. During year 2016-17 the Federation has marketed about 380 boats catches worth Rs. 6.03 crores.
Diesel Supply:

The Federation supplies tax free diesel of fisheries department quota to its members fishing boats which is required for the mechanized fishing boats for carrying out fishing in the sea. The Federation has diesel bunks at Mangalore, Hungarcutta, Malpe and Hejamady. The Federation has supplied 34480 KL diesel worth Rs. 192.68 Crores during the year 2016-17.
Ice Supply: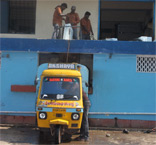 The Federation has ice plants at Mangalore and Malpe Fishing harbours. In these ice plants ice is produced and sold to fishermen at reasonable rates. In this way it is helpful to fishermen for preservation of fish and keeping good quality of fish and getting better price for the fish catch.
Sale of Fisheries Requisites :
The Fisheries requisites and spare parts are required for fishermen to carry out fishing business. In this regard Federation has established fisheries requisites and spare part shops in Mangalore, Hangarcutta, Hejamady, Malpe, Uppunda and Gangolli. During the year 2016-17 Rs. 98.81 Laks worth fisheries requisites and spare parts were sold in these centers.
Providing Maintenance Loan to Members:
In order to help the boat owners who markets their fish catches with the federation, maintenance loan is sanctioned to the boat owners for repair of their boats, nets and engines. Maintenance loans is sanctioned in Mangalore and Hungarcutta centers where marketing activities is carried out. During the year 2016-17 Federation has sanctioned maintenance loan worth Rs. 1.03 Crores to 93 fishing boat owners.
Business of the Federation :
During the year 2016-17 the total turnover of the Federation was 204.24 Crores & trading profit was Rs.5.41 Crores & accumulated Net Profit is 4.09 Crores.
IMPLIMENTATION OF GOVT. SCHEMES:
Masthya mahila swavalambhana yojana:
The Govt. of Karnataka has sanctioned Rs. 5.00 Crores to our Federation for the implementation of this program. Under this programme Rs. 5,000.00 revolving fund is sanctioned to fisherwomen consisting of 10 members in a Swasahaya Sangha and Totally Rs. 50,000.00 is sanctioned to a Swasahaya Sangha. The beneficiaries have to repay back the amount to the Federation in 10 Monthly installments in a year. Accordingly already 1,000 Swasahaya Sanghas have got benefit of this scheme in S.K. & Udupi District.
Masthyashraya Scheme:
The Federation has already implemented The Central sponsored Fishermen Housing scheme in which 806 fishermen have got benefit. Under Masthyashraya one and two program 1557 fishermen have got housing benefit. Presently the Govt. has sanctioned 1250 houses for fishermen in Udupi Dists each worth Rs. 40,000.00. Thus the programme involves Rs. 5.00 Crores of which Rs. 1.20 Crores have been received by the Federation and the programme is under implemention.
Supply of Safety equipments to Fishermen at sea:
The Govt. of Karnataka has sanctioned scheme of Supply of Safety equipments to Fishermen at sea for the benefit of coastal fishermen with central Govt. aid. Under this programme Fish Finder, G.P.S., V.H.F, and Search and beacon equipments are supplied to fishermen for carrying out fishing at sea in safe manner. The cost of 4 items comes to Rs. 1.5 Lakhs of which 75% is subsidy and 25% is fishermen contribution. The scheme is under implementation.
Future Activities
Establishing Diesel and oil outlets in Gangolli, Mangalore and other Fishing harbours.
Providing banking services for members if State Govt. aid is received.
Arranging programme for the supply of Kerosene to the Fishermen.
Starting Fish Marketing, Diesel Bunk, Ice plant, Shopping complex in Gangolli fishing Harbour in the land already leased by the department.
Rs. 10.00 Crore project has been sent to State Govt. for sanctioning loan to fishermen at 3% interest. Expecting sanction of this project.
Waver of ARCS dues including principal and interest from the Govt., of Karnataka.
Establishing Fish meal factories in fish landing centers.
Computerisation of the business of the Federation.
Renovation of Head office of the Federation.
Establishing 50 Tone ice plant in Mangalore & Malpe Fishing Harbour.
Supply of kits to fisherwomen for helping them for fish marketing.
Getting NCDC assistance for financing to members and arranging items required for fisheries.